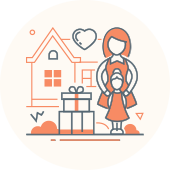 Be an Au Pair Plus in Spain!
Help with children, light housework and with English, French or German
Males or females aged 18 – 30 years old
You enjoy working with children and have childcare experience
You are able to communicate in Spanish or English
We accept participants from:
EU (Schengen area), UK, Australia, Canada, New Zealand, USA, and South Africa.

You are welcome to join the program
at any time throughout the year.
The exact arrival date in Spain will be agreed
upon and confirmed by your host family.
Your stay can begin at any given date, depending on existing vacancies as well as your skills, childcare experience and (if required) ability to drive, etc

June, July and August.

You could choose to stay 1, 2 or all 3 of these months.
Minimum stay during the school period is 3-6 months, although most host families prefer longer stays.

Au Pair Plus
in Spain
Want to improve your knowledge of Spanish, as well as experience the Spanish way of life? Well look no further.
With this program you will be able to immerse yourself in the Spanish culture while also gaining a better understanding of the language.
As an Au Pair Plus you will earn more money and have weekends off!
Babysitting: Once a week from Monday to Friday
Child care, preparing children´s meals. taking care of their clothes, driving/taking them to school and other appointments, etc.
In most cases assisting them with their English, French or German
Keep your room clean and tidy
Respect the familys' rules
You will never be asked to do heavy household chores as 90% of our host families have a cleaner in charge of such duties and some of them are live-in staff. However, the participant will be expected to take a reasonable role with day to day household chores, such as helping to prepare meals, helping to set up the table, put dishes in the dishwasher, general tidying up of the children´s stuff, etc.
Saturdays & Sundays

HOLIDAYS Participants are entitled to one paid holiday week after a 6 month stay, and to two paid holiday weeks after a 12 month stay. Dates should be agreed with your host family.
40 hours/week: 8 hours/day – Monday to Friday

SCHOOL HOLIDAYS Please, keep in mind that during school holidays you may be requested to extend your work schedule. In that case your host family will pay you extra. During summer months the participant may be asked to join the family at their holiday destination.

Assistance & Advice
When applying and with Host Family Placements.

Booking & enrolment
in a Spanish Course (should you like to attend one)

Student visa
We supply you with the documents needed and guidance through the applying process (should you need one)

In-Country Support
Throughout your stay in Spain

Airport Pick-up
If you arrive within reasonable hours

Accommodation
In your own private room


Weekly Allowance
150€/Week

Welcome Pack
With tons of useful info sent via email

Access to FB Group
Where you can meet other participants in your area

24 hours Emergency Phone
Learn Spanish in an excellent Private school in Central Madrid with special rates for our participants

Jordan tells us abour her experience in Spain

Check the other programs out